Enroll Now In The Electrify America Kia Charge Pass Program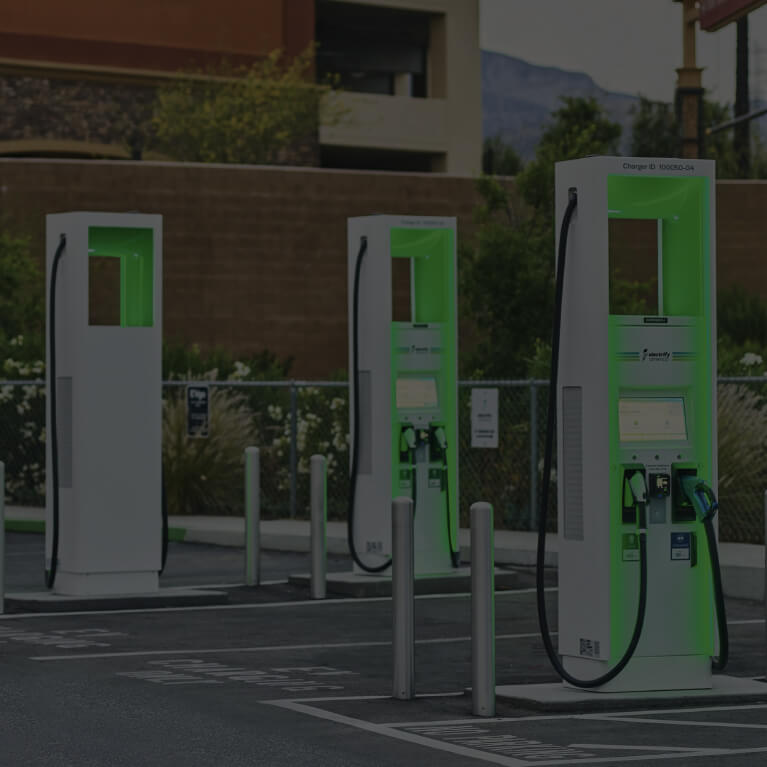 Simulated screen shown
Learn more about the Electrify America Kia Charge Pass Program 
Kia America is excited to provide retail customers of certain Kia battery electric vehicles with complimentary charging on Electrify America's nationwide ultra-fast charging network.1
| | | |
| --- | --- | --- |
| Model Year | Model | Complimentary Charging |
| 2022 | EV6 | 1,000 kWH |
| 2023 | EV6 | 1,000 kWH |
| 2023 | Niro EV | 500 kWH |
| 2024 | EV9 | 1,000 kWH |
Electrify America has more than 3,000 individual ultra-fast chargers across the country. Electrify America expects to have more than 1,800 total charging stations with over 10,000 individual chargers in the United States and Canada by the end 2025. For an up-to-date count or to find the nearest charger to you visit https://www.electrifyamerica.com/locate-charger/.
The chargers utilize the fastest technology available today – providing speeds of up to 150kW and 350kW for capable vehicles – to help reduce the amount of time spent charging.
With the peace of mind that comes with convenient access to a leading nationwide network of chargers, new owners of eligible Kia electric models can take full advantage of their new vehicles, whether that be an impromptu trip across town or a long-distance road trip adventure.
Eligible customers will have access to Electrify America's coast-to-coast fast-charging network in which to use the Electrify America Kia Charge Pass Program complimentary charging.2
Enrollment Process
Accessing the Electrify America Kia Charge Pass Program is as easy as downloading a smartphone app and following a few on-screen registration instructions:
Step 1: Enroll in Kia Connect.
Step 2: Using the Kia account created, get the 8-digit Kia Charge Pass Enrollment Code from the Kia Access app or the Kia Owner's Portal.
Step 3: Download the Electrify America app3
Step 4: Create your Electrify America account and select "Set Up Public Charging".
Existing Electrify America members may select "Premium Offers" in the Account tab, then select "I have an enrollment code".
Step 5: Select "Choose Membership Plan" then select "Premium Offers".
Step 6: Input the 8-digit enrollment code and select Kia Charge Pass plan, followed by inputting the vehicle's 17-digit VIN4 number for verification.
Step 7: Accept Plan Disclosure and Select the Plan.
Step 8: Enter payment info5 and set up auto-reload.
You will need to enter a payment method to cover any incurred Idle Fees6 and any applicable taxes on those fees, as well charging outside of the Kia Charge Pass benefit.
Offer enrollment can be as smooth as your journeys, but if you encounter any roadblocks, call 1-833-632-2778 to contact Electrify America Customer Assistance, available 24/7.
.
Disclaimers
1. The Kia Charge Pass program is available on certain new Kia electric vehicles purchased from an authorized U.S.-based (excluding Alaska) Kia dealer.
The  complimentary charging is non-transferable and not available for commercial use, such as ridesharing.
Kia Charge Pass program requires the following:

8-digit Enrollment Code
Download the Electrify America Application and creation of an Electrify America Account
Acceptance of Terms of Use
Enrollment in Kia Charge Pass plan.

After user-initiated charge session stops or vehicle reaches full charge or charging otherwise stops, and 10-minute grace period has elapsed, Idle Fees will apply for which the user will be responsible.
In the event of suspected fraud or abuse or other unforeseen events, Kia America and/or Electrify America may discontinue or modify the offer at its sole discretion.
2. The complimentary charging may be used for three years from the vehicle purchase date.
3. Your mobile carrier's normal messaging, data, and other rates and fees will apply to your use of the Electrify America mobile application.
4. The VIN can usually be found on the driver's side dashboard near where the dashboard meets the edge of the windshield.
5. To help ensure that your charging session will not be interrupted, your Electrify America account balance automatically reloads when it falls below $10.
You'll be billed the auto-reload amount you select in the app the first time you charge at an Electrify America station.
The billed amount will be held in your account to cover costs not covered by this plan, such as Idle Fees and applicable taxes.
6. Drivers who do not unplug and move their vehicle within ten minutes after their charging session has completed will be charged a $0.40 per-minute idle fee. Idle fee amount determined by Electrify America.
This fee encourages drivers to move their vehicle promptly so that others can use the charger.
You can be notified when your charging session is complete by text message or see it on the "Charger Screen", (Customer cellular data rates may apply).
7. Your mobile carrier's normal messaging, data, and other rates and fees will apply to your use of the Electrify America mobile application.
.