Enhancing Your Kia with Over-the-Air Software Updates
Over-the-Air Software Update technology puts you in control, enabling you to update, upgrade, and add exciting new features to your Kia remotely.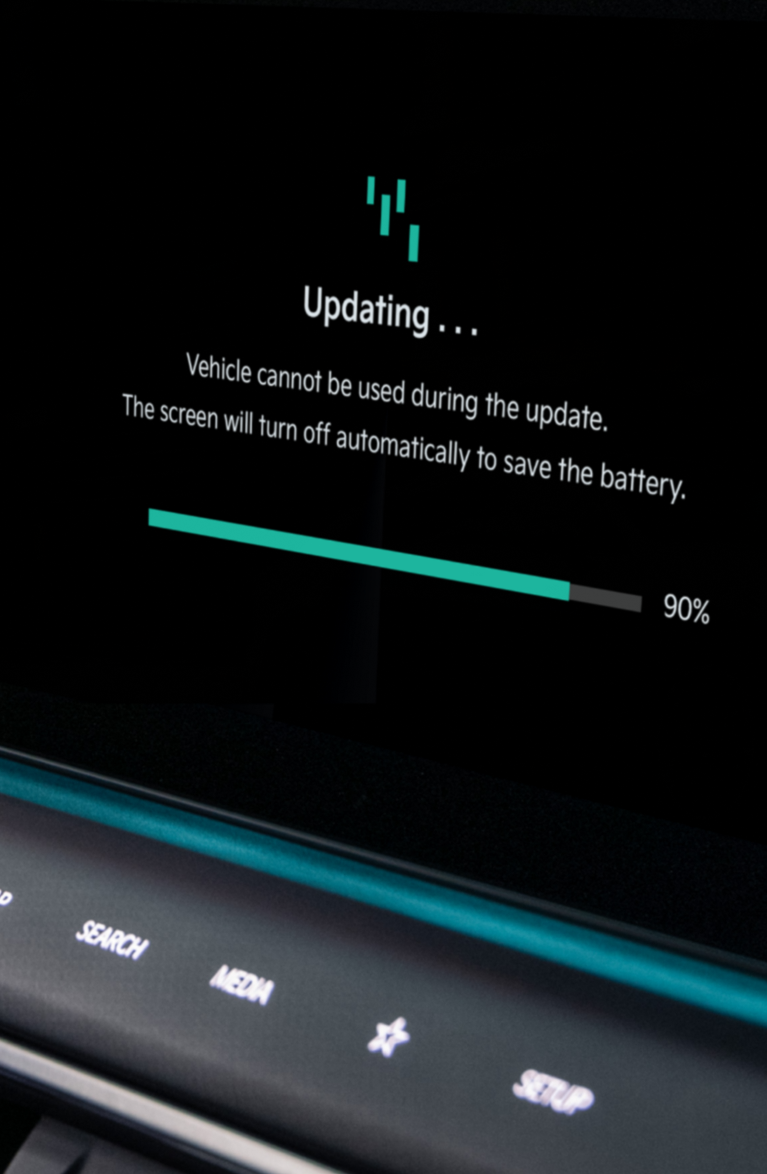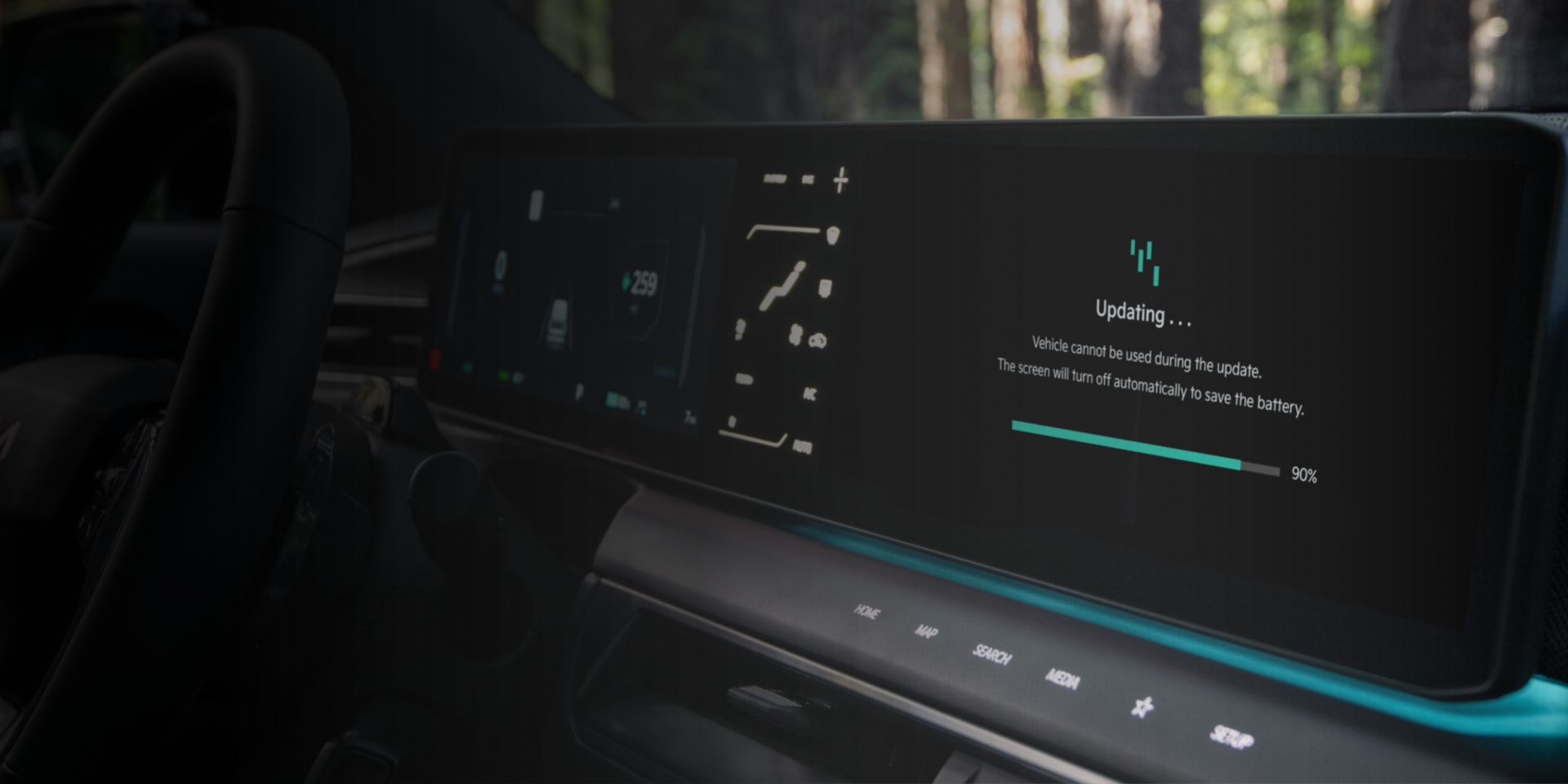 Simulated screen shown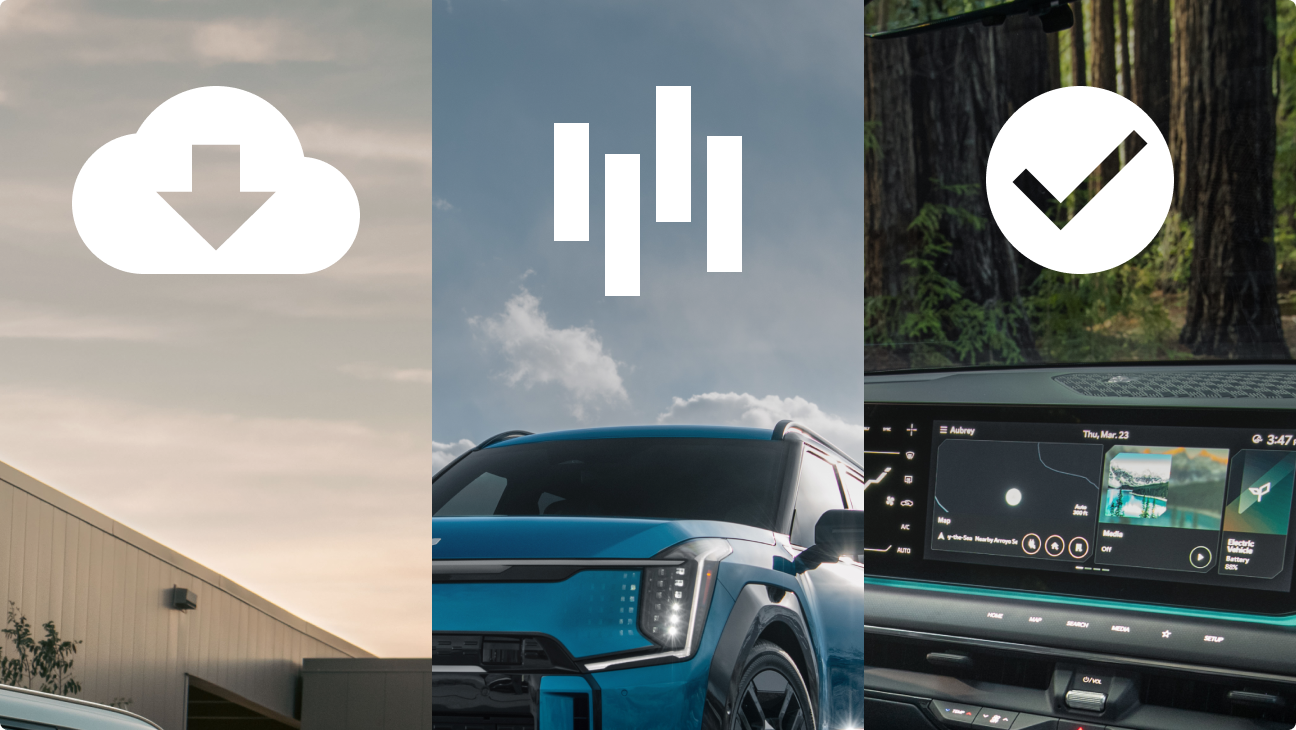 What are Over-the Air Software Updates?
Over-the-Air Software Updates mark a significant transformation in how you care for your Kia. This wireless technology can empower you to enhance your software systems, including powertrain system electric motor, battery management system, and advanced driver assistance systems.
Receive automatic notifications on your mobile device via the Kia Access app when new software is downloaded to your Kia. Conveniently update your Kia remotely with the downloaded software.
Benefits

Elevate Your Kia Experience

Unlock an elevated Kia experience that can enhance your vehicle's performance. Updating your Kia's software is now easier and more convenient.

Abundant Features

Access a stream of new features via Over-the-Air updates. You're firmly in command of your Kia's evolution.

Fight Stale Technology

Keep your vehicle up to date with Kia's state-of-the-art feature upgrades.

Step 1. Vehicle automatically downloads latest software update.
New updates are automatically downloaded wirelessly to your Kia as you drive.
A push notification is sent to your smartphone upon download completion.

Step 2. Get vehicle prompt that update is ready for installation.
At your next ignition/power off, follow the installation instructions shown on vehicle's infotainment screen.
Your Kia will show the estimated installation time and ask whether you wish to proceed or do it a later time. Update times vary based on the software size.
The vehicle must be turned off and the following condition must be maintained to proceed with the software installation:
Transmission/Gear: in P (Park)
Exterior Lights: Off
Parking Brake: On
Hood: Closed
Note:Your vehicle will be disabled and cannot be driven during the software installation. Park your vehicle in a safe and secure location. You will not need to remain in your vehicle during the installation.

Step 3. Check software update progress.
Installation progress may be checked on your Kia's infotainment screen.

Step 4. Software update completion!
After completion of the software update, a push notification will be sent to your phone and the vehicle's infotainment screen will display a QR code and a summary about what is new with the update. You can scan the QR code to verify update updated information.
For questions or concerns, contact the Kia Connect Call Center (844) 886-9411, 7 days a week from 5 am to 6 pm PST.
Disclaimers
If the 12-volt battery has been disconnected or connected in the past, complete the following steps before starting the over-the-air-software update process:

Turn off the engine.
Disconnect any electronic devices that may be connected to the On-Board Diagnostics (OBD) port.
Park the vehicle for at least 4 hours. The updates may need to download again prior to installation.

Any devices connected to your Kia's OBD port may impact your Kia's ability to download an over-the-air software update. If any device is connected to your Kia's OBD port at the bottom of the driver's seat, follow these steps to start the over-the-air-software update:

Disconnect the device and start the engine to download updates.
Drive the vehicle for at least 30 minutes.
Install the updates when prompted to do so. Do not connect any device to the OBD port during the over-the-air-software installation process.

When the over-the-air-software update is installing, the vehicle cannot be operated, and all functions, including electric vehicle charging and the V2L* function will not be available.
V2L: V2L stands for Vehicle-to-Load, which is a bi-directional charging system in electric vehicles.